Anticipating the Edible Oil Landscape in the Vietnamese and International Markets
1. Vietnamese Market:
Vietnam emerges as one of the world's swiftest-recovering markets post-COVID-19, boasting a population of 100 million in 2023. With a continual surge in tourism and the flourishing food processing and dining services sectors, the Vietnamese edible oil market is poised for significant growth in 2023 and the ensuing years.

The substantial increase in consumption demand and inputs for the food processing industry has consistently driven the import prices of vegetable oils in Vietnam upwards. In 2022, the import value soared to $1.41 billion, marking a 20% increase from 2021 and a staggering 2.2-fold rise compared to five years ago (with imports reaching $634 million in 2018).

According to Nielsen, a prominent market research company, the scale of the edible oil market in Vietnam has seen continuous growth in recent years, estimated at around 30-32 trillion VND per year (approximately $1.3 billion USD), with projections indicating a trajectory of sustained growth. Aggregated market estimates foresee the current scale to be around 33 trillion VND in 2023 (approximately $1.4 billion USD), expected to reach 35 trillion VND (approximately $1.5 billion USD) by 2025.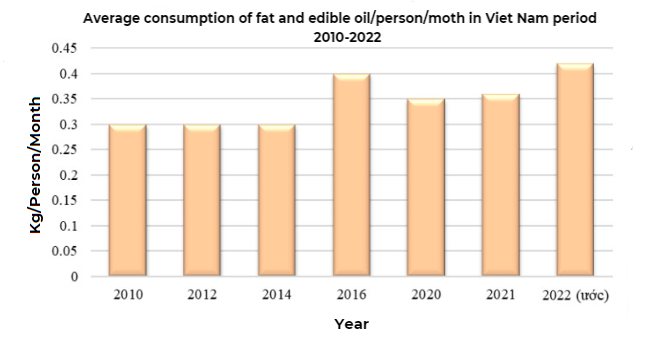 The overarching trend in the edible oil market for 2023 witnesses a stable increase in demand, driven by the full recovery of dining and tourism services (though still mildly affected in the first half of 2022 by the lingering effects of the pandemic). However, numerous edible oil businesses in Vietnam reported unfavorable business results for the previous year, primarily due to fuel price fluctuations leading to substantial cost increases at the beginning of the year. Meanwhile, selling prices could not escalate rapidly as consumers remained cautious in spending post-pandemic.Thissituation might impact the capacity expansion in 2023.
2. International Market:
The latest report from MarketWatch on February 15, 2023, reveals that the global Edible Oil market generated $108.47 billion in 2022, with a projected expansion at a CAGR of 5.34% in the forecast period, reaching $148.20 billion by 2028.

Another market research report by Market Research on February 20, 2023, indicates that the global Edible Oil market revenue was $103 billion in 2021, with a forecasted expansion at a CAGR of 5.25% in the forecast period, reaching $140 billion by 2027. While the figures from these two renowned global market research companies align, a comprehensive synthesis of tracking individual types of edible oils suggests that the overall scale of the global edible oil market is substantially larger. Just the global vegetable oil market alone has a scale of nearly $150 billion USD. Sales in the global vegetable oil market reach approximately 200 million tons per year.
The market is predicted to grow at a CAGR of around 3.10% in the forecast period 2023-2028, aiming to achieve a volume of about 250 million tons by 2027.

The years 2022-2023 indeed mark a period of significant flux in the oil market. Let's eagerly await to see if this market, teeming with potential and challenges, will unfold as projected in the above forecasts.
Mobile: (+84) 869 837 181 (WhatsApp, Wechat,...)
Email: info@vietseafarm.com.vn
Tel: (+84) 903 354 981
Fax: (+84) 903 354 981
Views: 33